Fri, 19 December 2014
The Voices of NARIX 2014
Graydancer went to the North American Rope Exchange and all he got was three outstanding podcasts! This is part one, on-the-spot interviews with many of the organizers and attendees. You get to hear the hum of ropesters in the background as people talk about their experience, their plans, and most of all their rope.
---
Tue, 16 December 2014
December_16__2014_at_1001AM.mp3
---
Wed, 26 November 2014
Ropecast Interview with the Sexy Librarian
From her blog:"Rose Caraway is a native Northern California writer, editor, blogger, narrator, audio book producer and podcaster for the hit show "The Kiss Me Quick's" Erotica Podcast. She freely celebrates all things erotica with her wonderful Lurid Listeners and is fondly know as "The Sexy Librarian" who scours the globe searching for more sexy stories for her fans, which includes inviting many of today's most influential erotica authors to guest write for her show."
Graydancer gets her to talk about rope, kink, writing, and much more, including her new book:
---
Thu, 6 November 2014
Interview with Shay at FAPCON 1
Live from the hot tub in Calgary, Alberta comes an interview that has long been desired: Shay from San Francisco! A self-tying suspension aficionado, cock-and-ball binding kink educator, ER nurse, leather-title-holder, and half of the dynamic duo Stefanos and Shay, she spends some time spilling her secrets and sexy surprises in Graydancer's lap!
This podcast brought to you by BastardRopes.com, who has contributed to the production costs of the episode. We appreciate his support and, also, his rope! Please check out his site and let him know you heard about him here, so he and others continue to support the Ropecast.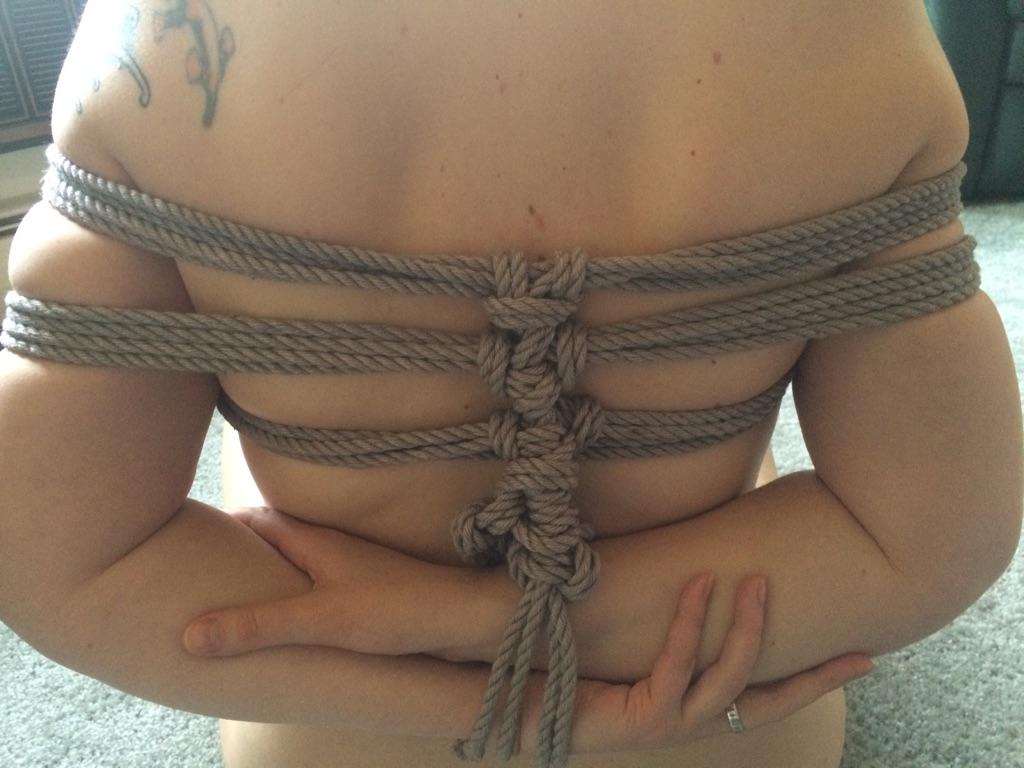 ---
Sat, 4 October 2014
Interview with Hishi Karo
Graydancer got to play host to the awesome feminist rigger Hish Karo (@hishiCarreaux on twitter) and got to speak with her about her experiences studying with Osada Steve, creating a rope space in Vienna with her partner Barkas, as well as general thoughts on the philosophy of rope bondage.
Gray also talks about his upcoming schedule, including the Seattle GRUE and the Kinky SharkTank at Dark Odyssey Surrender.
---
Tue, 23 September 2014
Interview with ABMann
What? Another interview with a rope maker? Yes, but this one goes far afield. ABMann is a self-identified nerd, introvert, persistent self-improver, Hitchin' Bitches ally, and pen connoisseur. He talks about process, practice, kink, and of course rope in this interview.
You can see ABMann's rope at BunnyRope.com, and read more of his writings at his blog or his tumblr. Wadsworth, the company mascot pictured above, has a pretty hot tumblr as well.
---
Thu, 4 September 2014
M0co & Beemo Interview!
Krakens, Jute Rope Entrepreneurs, Performers, & Partners!
M0co (that's a zero in the second letter, folks!) and his partner Beemo (aka "Lily") share their interesting journey in rope, power exchange, and the kink community in this honest and touching interview. Learn how a novice rope guy becomes an international bondage entrepreneur, and why he and Lily have a relationship that literally stopped the presses!
---
Sun, 17 August 2014
Hedwig Interviews Nawashi Kanna & Model Kagura
Hedwig has a long and in-depth interview with internationally renowned kinbaku artists Kanna and Kagura.
They cover not only the usual questions about rope training, education, and performance, but also deeper topics such as what goes into an intense rope partnership and Kanna's experience coming out as transgender in the Japanese rope community. They also talk about rope injury, the roots of hojo jutsu, and the fun of "going hard" (semeru).
It is one of the most touching and personal interviews ever put on the Ropecast, and we are immensely grateful to Hedwig, Kanna-san and Kagura-san for sharing it with us. Below is an example of their performance style.
Nawashi Kanna & Kagura performing at the II. Viennese Rope Festival (March2014) from Shibari Dojo Vienna on Vimeo.
In order to preserve the words of the bakushi and model in their own voices, this podcast was produced with minimal editing. Feedback? E-mail Graydancer!
---
Sat, 26 July 2014
"STFU & TIE"
The Devil's Mask Society is represented in this podcast about getting past peer pressure, judging eyes, and getting back to what rope is about: connection, joy, art, sex, fun, whatever you and your partner choose to make it.
Then, as promised in Graydancer's Newsletter, there is an exclusive announcement from a VERY special guest - that takes Gray completely by surprise!
---
Wed, 2 July 2014
NARIX: North American Rope Exchange
There's been a buzz in the rope community in North America recently about the upcoming NARIX event in Ann Arbor, MI November 7-9, 2014. Ben Hart dispels a lot of the mystery but leaves all the excitement with this interview.
You can learn more about NARIX including how to apply for the 2014 event at www.NARIX.org, and also by visiting the Fetlife page (NARIXhost) or reading the group posts there. You can also email them for more information.
If you enjoyed this podcast, consider becoming a Patron of Gray's and support his continued work in both kink and vanilla blogging and podcasting.
You can also subscribe to Kink Academy for a ton of rope tutorials and that will help him put food on the table as well!
---